Your Vehicle Maintenance Checklist from Kearny Mesa INFINITI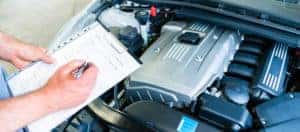 Our San Diego, CA, INFINITI dealers enjoy finding the perfect vehicle for you like the INFINITI Q50, but we also enjoy providing the service and guidance to keep your vehicles running at peak performance. Our dedicated service center is here to help with everything your car needs from brakes to new tires. Kearny Mesa INFINITI, your local INFINITI dealership serving Carlsbad and Escondido, wants you to have an unsurpassed car-ownership experience. In order to make that happen, your car needs regular maintenance.
Why Your Vehicle Needs Maintenance
A little maintenance will go a long way toward keeping your new INFINITY vehicle running in top condition. Simply changing the oil will protect those critical engine components and prevent costly breakdowns. The oil and other consumables like air and fuel filters need to be replaced at certain intervals based on mileage and your driving habits. One of the best things you can do is follow the manufacturer's recommended maintenance schedule.
Vehicle Maintenance Checklist
Tires: As the only part of your car in contact with the road, your tires are critical to safety and performance. Tire pressure and condition should be checked about once per month.
Check fluids: You already know your oil needs to be changed, but are you paying attention to other fluids like your coolant and windshield wiper fluid? A simple visual inspection is all it takes.
Check engine light: Yes, when this warning appears it could be serious, but it could also be a minor issue like a loose gas cap. What you don't want to do is ignore it.
Battery: Don't get caught in a situation where your car won't start. While batteries last quite a while (three to five years), they will need to be replaced. You should know the age of your battery.
Lights: Bulbs will burn out over time and can create a safety issue if not addressed. It's a good idea to have your lights checked when you get an oil change.
Filters: Your INFINITI vehicle needs gas and oil, but it also needs clean air. You should check your air filter at least once per year, and don't forget about the fuel filter.
Our service department near Kearny Mesa will keep your new INFINITY car or certified pre-owned vehicle running properly. We work on INFINITI cars every day, which means we diagnose, repair, and maintain with the utmost efficiency. We also use genuine INFINITI parts and have a dedicated INFINITI parts department to serve you.
Schedule your next maintenance appointment today at our San Diego INFINITI dealership!