Service Your Tires at Our San Diego, CA, INFINITI Dealership
When you're interested in browsing a quality selection of INFINITI cars , stop by Kearny Mesa INFINITI. Once you arrive, you'll quickly learn that our INFINITI dealership in San Diego, CA, is also here for you when you need routine maintenance. Trust our technicians will all important service concerns — including regular tire care.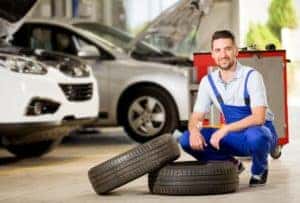 Why Tire Service is Important
As dedicated INFINITI dealers, we know you value your INFINITI vehicle just as much as we do. Routine car service is an important way to take care of the investment you make in your car. One component can impact the rest of your vehicle's performance and overall lifespan. It's hard to emphasize how important tire service is to your vehicle as a whole. Your tires endure a lot of wear and tear, so it's always wise to keep your ears and eyes peeled for any obvious signs of damage. Make note of gouges or tears, odd noises, or abnormalities with the way your car is handling. These are all signs that your tires need extra attention from our service team. Failing to act when you see warning signs and neglecting tire care can lead to uneven tread and alignment issues. You could also experience degraded driving performance and fuel economy.
Types of T ire Service We Offer
Leave all critical tire maintenance checks in the hands of our seasoned INFINITI service center specialists near Kearny Mesa. We treat tire care seriously at our INFINITI dealership near Carlsbad. You can count on our INFINITI-trained technicians to handle any issues you have with visible damage to tires, check and correct tire pressure concerns, and even help you purchase new tires from our INFINITI parts center and install them for you. Other important checks you can rely on our service team for include annual tire rotations to promote the longevity of your tires and more even tread. We can also perform wheel alignments, which can address suspension and tire placement problems that impact handling. Our seasoned service experts can ensure that all tires are in optimal position for the best performance and efficiency.
Whether you purchased a brand-new vehicle from our California INFINITI dealership or you're in need of a new automotive service provider, we're here to help keep your tires and all vehicle components in top-notch condition. Schedule your next maintenance appointment today!