Comparing the 2019 INFINITI QX30 vs. 2019 Acura RDX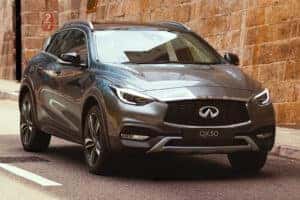 At Kearny Mesa INFINITI, you'll find a wide inventory of vehicles imbued with ample performance, luxury, and style. Our eye-catching selection of new INFINITI cars near Carlsbad, CA has something for just about every lifestyle. We're especially proud of our lineup of luxury SUVs, including the 2019 INFINITI QX30, and we'd love to show you how it stands out from competitors like the 2019 Acura RDX.
The 2019 INFINITI QX30
The 2019 INFINITI QX30 blurs the line between coupe and crossover, delivering sporty and efficient performance around every turn, as well as plenty of everyday functionality. It is powered by a turbocharged 2.0-liter four-cylinder engine that puts out 208 horsepower and 258 lb-ft of torque. The luxurious interior comes stocked with the latest tech features, including a seven-inch touchscreen infotainment system and a six-speaker sound system with a USB port. Newly standard for this year is forward collision warning with automatic emergency braking, an advanced driver aid that alerts you and helps you avoid an oncoming collision.
The 2019 Acura RDX
When you're looking for the right luxury SUV, you have a lot of choices in front of you, including the 2019 Acura RDX. It is powered by a turbocharged 2.0-liter four-cylinder engine that puts out 272 horsepower and 280 lb-ft of torque. Standard features include advanced driver aids like forward collision warning, as well as entertainment features like a 10.2-inch display screen and a nine-speaker sound system. We think when it comes to your driving experience, you'll enjoy the 2019 INFINITI QX30 more. Its 500 to 600 pounds lighter than the Acura RDX, as well as one foot shorter, making it easier to handle and maneuver. The turning radius of the INFINITI QX30 is also significantly tighter than the Acura RDX. The INFINITI SUV comes with a better warranty, which lasts 10,000 miles longer than that of the Acura RDX.
Of course, we don't want you to take our word for it, and you have to drive this SUV yourself to understand how fun it is. We invite you to visit our San Diego INFINITI dealership today so we can take you for a test drive in this vehicle or one of our pre-owned INFINITI cars at 4670 Convoy St. We hope to see you soon!